Accommodation, Food and Entertainment
Spend some time in Northcliffe...
Eat, Sleep and Be Merry in and around Northcliffe
All known Northcliffe accommodation providers are listed in alphabetical order in the red link list, with further details when you click or scroll down this page.
Meals are available in the daytime from the Hollow Butt Cafe and the Cow and Calf Bistro at Northcliffe Hotel. Evening meals are available 7 days per week from the Northcliffe Workers Club and the Cow and Calf Bistro at Northcliffe Hotel. Both premises also offer take away food.
Licensed premises in Northcliffe are the Northcliffe Workers Club and Northcliffe Hotel. The Northcliffe Newsagency and General Store has a bottle shop which is open 7am-7pm, 7 days per week.
Live Entertainment is an occassional treat at the Hotel and the Workers Club and if you keep your eye on the town noticeboards and our online calendar you will see the town manages to organise other special music events from time to time.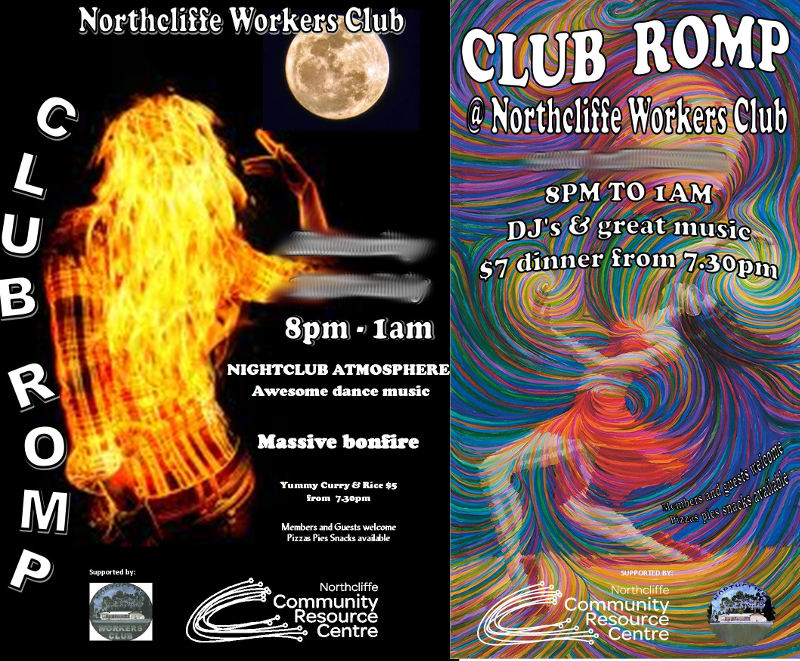 Northcliffe Worker's Club has a regular DJ-dance event called 'Club ROMP' which always attracts a lively crowd to the dance floor with a nightclub stlye atmosphere. We try and have these events monthly and members and guests are always welcomed. Keep an eye on our online calendar for the next Club ROMP announcement (or the town noticeboards).
For a unique dining experience we highly recommend Foragers Seasonal Dinners, by Sophie Zalokar. Foragers is situated between Northcliffe and Pemberton and is one of the few truly world class dining experiences available in the South West. Visit the Foragers website: www.foragers.com.au to check out the sample seasonal dinner menus or have look on their news bar on the home page for this weeks menus. Finally, Foragers running cooking classes in their field kitchen and offer onsite accommodation packages.
There are many more dining experiences to be had in the region: as well as the Northcliffe Hotel there is the Quinninup Tavern in Quinninup; Lost Lake Winery, Mill House Cafe, Hidden River and Jarrah Jacks Brewery in Pemberton; Tall Timbers, Cilantro Cafe and Farmhouse Pizza in Manjimup. Outside of Manjimup is the Wine and Truffle Company with their exceptional truffle-infused menu.
A Northcliffe based cellar door experience can be enjoyed at Hillbrook Wines and Ten Chains Winery and many other vineyards can be included in a driving tour taking in the Pemberton Wine Region and the Manjimup area (Salitage, Silkwood, Lost Lake, Mountfords, Pemberton Wine Centre, Jarrah Jacks Brewery and WoodSmoke Estate Winery, Hidden River and more.
Mountford Wines, famous for their scrumpy cider, fine wines, and jazz weekends, are about 20 minutes drive out of Pemberton and 40 minutes out of Northcliffe. They have an exhibition space and host regular live music weekends, music workshops and more. Visit www.mountfordwines.com.au and check out their news/events link.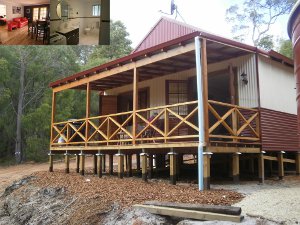 Aroundtu-It Caravan Park and Chalet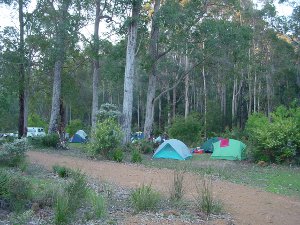 Located at 190 Muirillup Road, 1.5 km east of the town of Northcliffe ideally situated in 100 acres of Karri and Jarrah Forest. Aroundtu-it is a friendly, tranquil site with nature at your door step. Aroundtu-it has a self contained chalet, comfortable, modern and private for a get away in the forest. There is plenty of room for your own caravan, to pitch a tent, or hire an on site van. 2 campers kitchens available.
There is a mountain bike track on the property to try your skills and mountain bike hire. Events through the year are the 6 hour MTB Classic Night Ride Roundtu-It in November and the 24 hour MTB Enduro Roundtu-It on Australia Day weekend in January. Email for event dates, entry forms and further information.
Dave and Helen have extended their hospitality to visitors from around the world. Activities include bush walking, bird watching, wild flowers in season and feeding Alpaca's and kangaroos at their feeding stations. Northcliffe Forest Park is adjacent to the property. This unique park is renowned for its virgin Karri forest and native flora. Highlights are the Hollow Butt Tree, Twin Karri's and meandering walks through the forest.
Visit our website www.aroundtu-it.com.au Email us at roundtu-it @westnet.com.au, or phone Dave and Helen on 08 9776 7276 or 0427067276. Dave Allen, PO Box 159, Northcliffe WA 6262.
---

Canterbury Cottage
18km from Northcliffe on Boorara Road, our 2 bedroom cottage is surrounded by farm, garden and tall forest.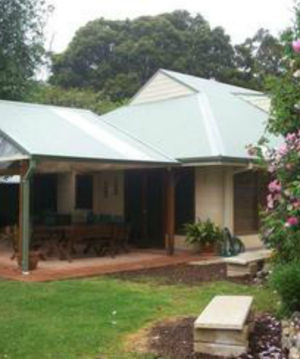 Located near the Boorara Tree and the Lane Poole Falls forest walk, the Cottage is fully self contained with breakfast ingredients (farm fresh eggs, bacon, tomatoes, hash browns, toast, blueberries, avocados), tea and coffee, provided for self catering.
There is a main bedroom with a double bed and ensuite, and a large loft bedroom with double bed and several singles.
Phone us on 08 9775 1055
---
Gilvonnie's Farmstay
Gilvonnie's is a traditional bed & breakfast with visitors staying as guests in Yvonne and Alf's own home. Situated on Armstrong Road,Northcliffe, in a peaceful idyllic country setting with a friendly relaxed atmosphere, Gilvonnie's Farmstay is a great place for the whole family to experience first hand dairy farming. Only 1.5km from the Bibbulmun track off Middleton Road and just a 30 minute drive to Windy Harbour and Point D'Entrecasteaux Cliffs. Phone 08 9776 7022

---
Hollow Butt Cafe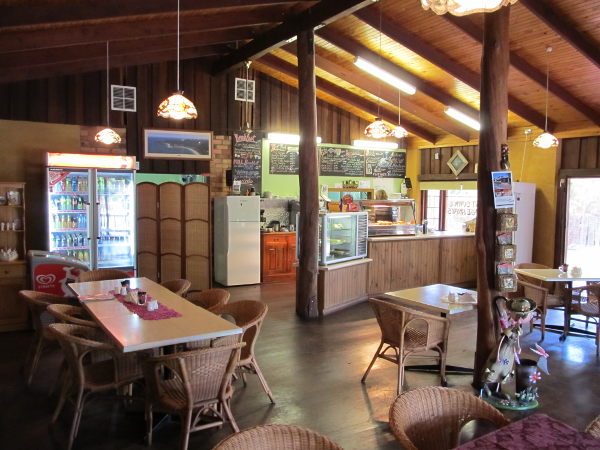 The Hollow Butt Cafe is named after one of Northcliffe's famous attractions in Forest Park. Open 8am to 3pm 7 days per week for breakfast, lunch and afternoon teas, the Hollow Butt Cafe can provide fresh and delicious food for the weary traveller, a perfect break during your South West tour. Wheatley Coast Road, Northcliffe WA. Phone: 08 9776 6050. Take a look at our menu!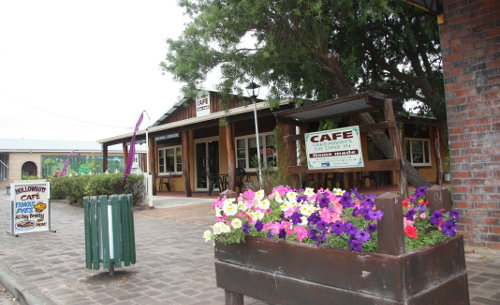 ---
Karri Hill Cottages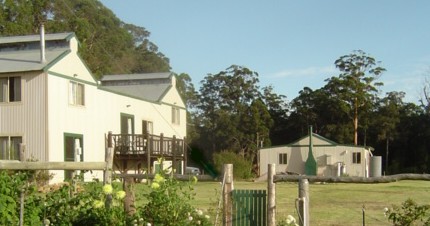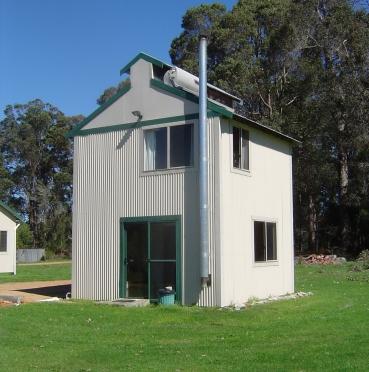 Located between Northcliffe and Pemberton, Karri Hill Cottages, previously named Watermark Kilns, provides you with comfortable budget accommodation. Whether you are a sole traveller, a couple, a larger family or a group with a special interest, you can come and relax here and enjoy the peace and quiet of the farm, surrounded by the mighty karri trees.
With the Munda Biddi biking trail going past the gate and the Bibbulmun walking track just metres away, you are in the perfect place to explore one of the most beautiful parts of the South West region.
In addition to offering accommodation, we can provide you with fresh fruit and vegies from our gardens. We are happy to support you with accommodation, supplies and transport when you walk the Bibbulmun Track or cycle the Munda Biddi. We are easy to find as the Bibbulmun Schafer hut is just 300 m away, so don't worry if you don't have telephone connection, you can just come and see us as you pass by.
Karri Hill Cottages were originally built in the 1950s to dry tobacco. They have been converted to suit a range of self-catering accommodation needs - from Bibbulmun Track walkers to family or interest groups. Your hosts are David and Annie Fishleigh.
Accommodation includes our large Double Kiln suitable as shared accommodation for individuals, or for groups, our Single Kiln, Bell Cottage and Bassett's Cottage (dog friendly).
Our address is 262 Karri Hill Road, Northcliffe WA 6262. Visit our website for directions, and don't trust Google to get you there! The website is www.karrihillcottages.com. Phone us on 08 9776 7349 or email karrihillcottages@gmail.com.
---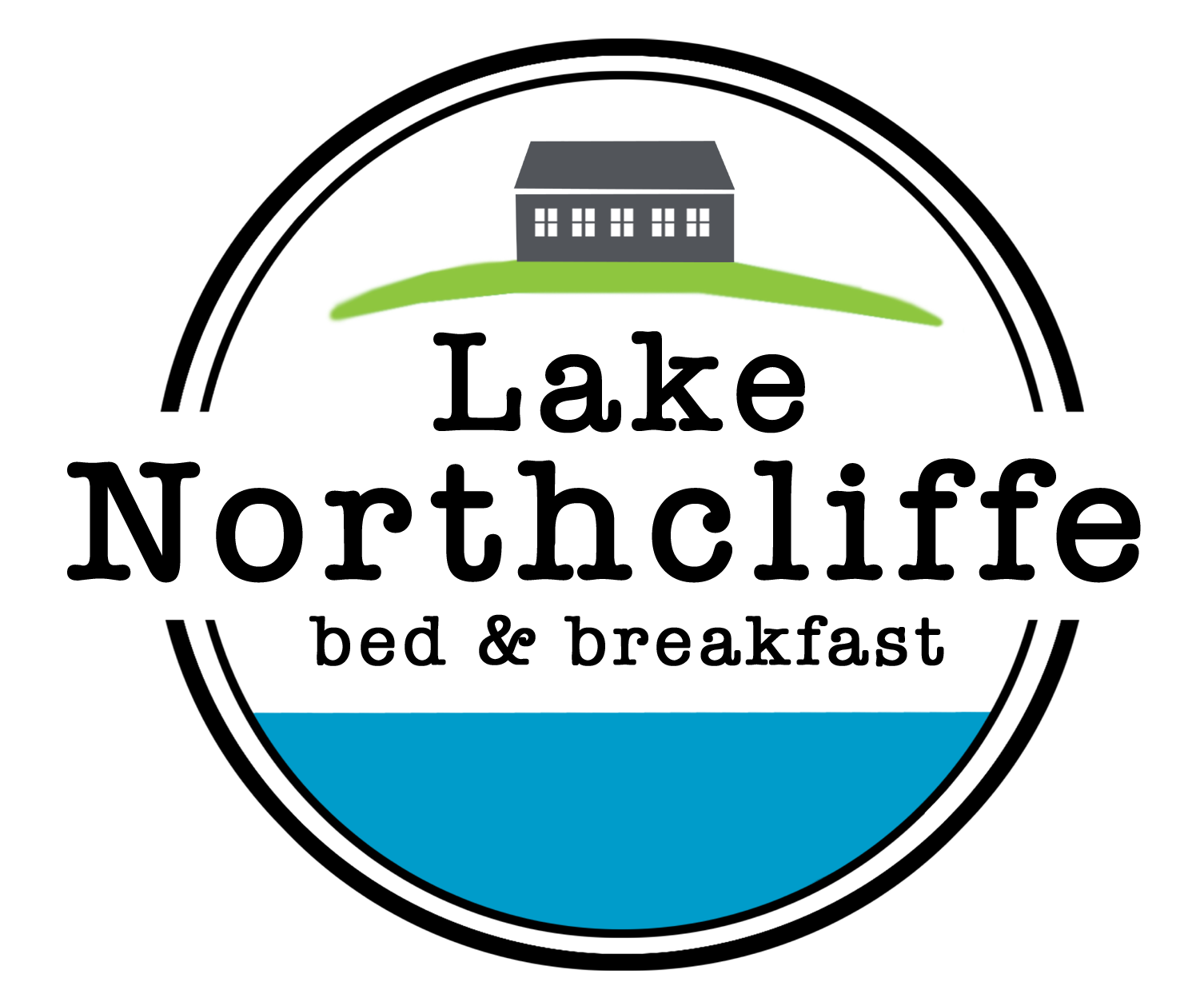 Lake Northcliffe B & B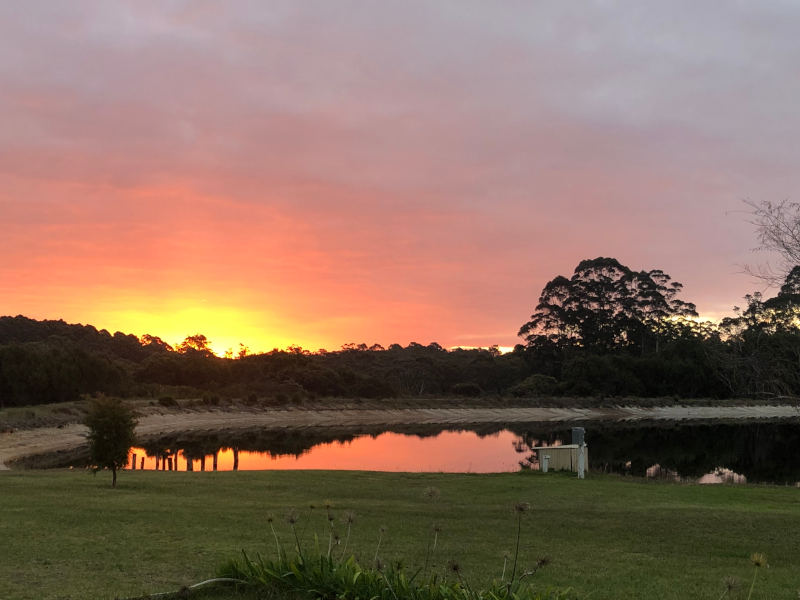 Lake Northcliffe Bed & Breakfast is situated on Boorara Road just 3.5 km from the centre of town. Lake Northcliffe provides a tranquil country setting for guests to relax and use as a base as they explore this beautiful area.
Close to both the Munda Biddi trail, and the Bibbulmun track the Bed & Breakfast offers a bathroom equipped with a bath for tired walkers and riders to recover in during their stay.
The guest accommodation is within the main house, however, guests have their own private entrance, kitchenette/ dining area, TV/ sitting room, bathroom and 2 queen size bedrooms. Items for a continental breakfast are provided.
For more information we can be contacted through our facebook page, Airbnb listing or on 0437 618841. Alternatively email us at jaine2@bigpond.com.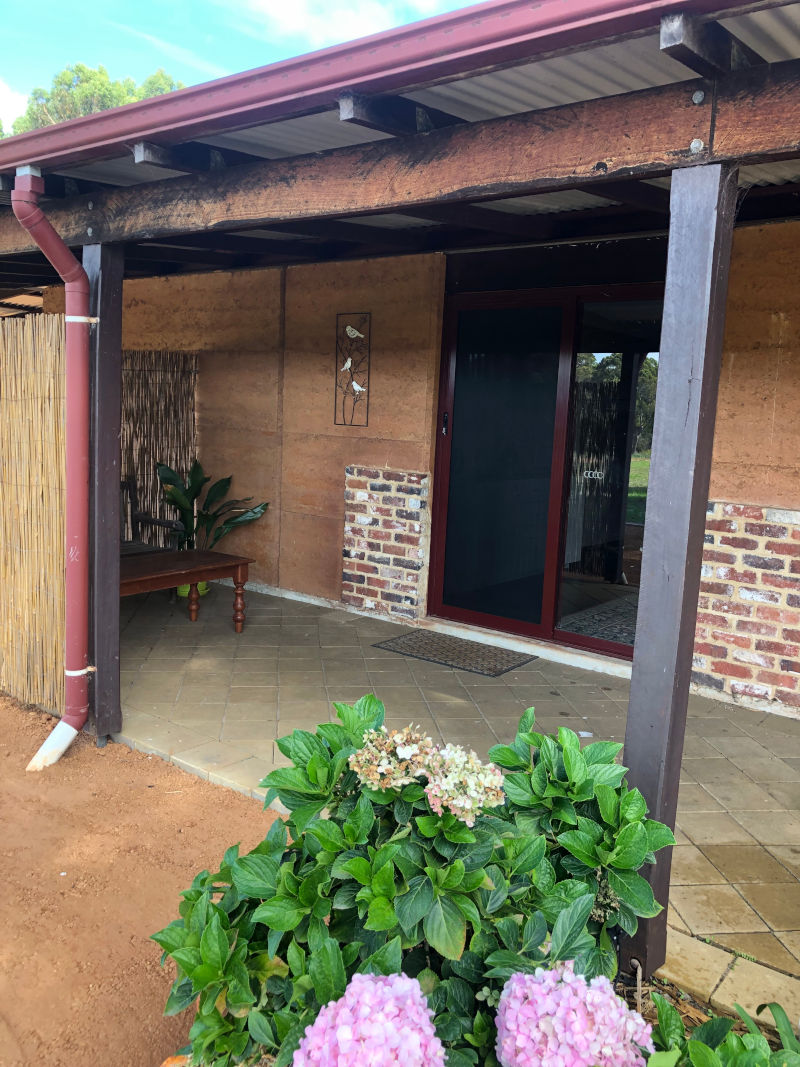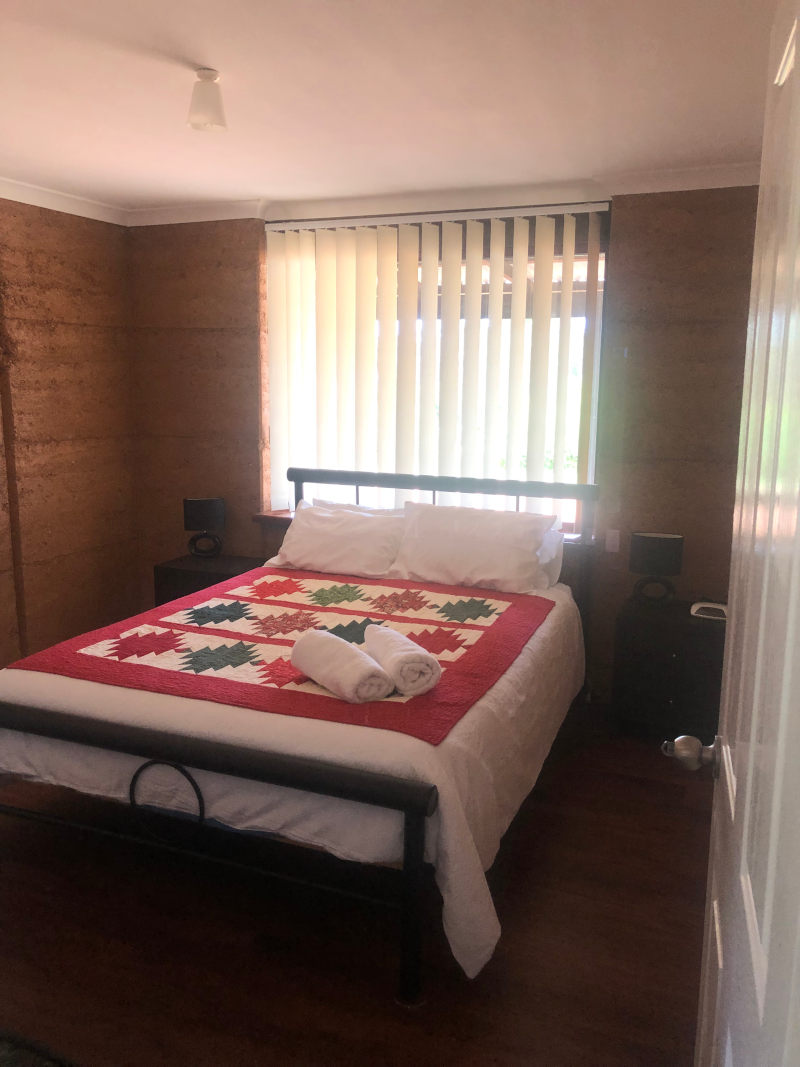 ---

Linda's Dinners
Operating out of the Northcliffe Workers Club, Linda's Dinners offers quality evening meals, dine in or take away, 5-8pm 7 days per week. Members and guests are welcome at the Club.
Check out our great menu. Feel free to ring ahead for a dinner pick up on 9776 7027.
---
Northcliffe Hotel and Motor Inn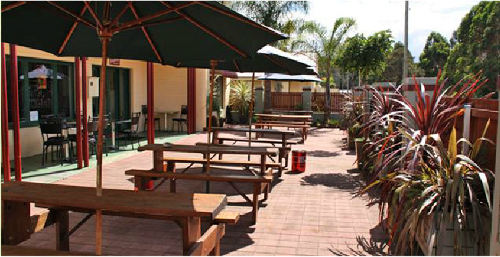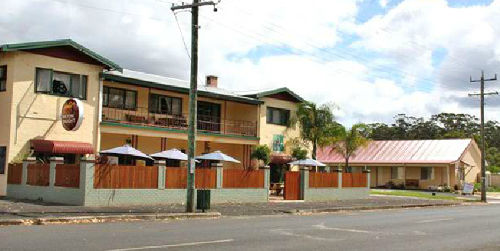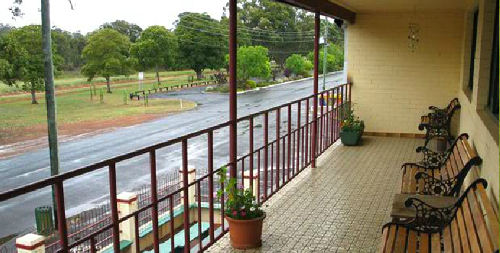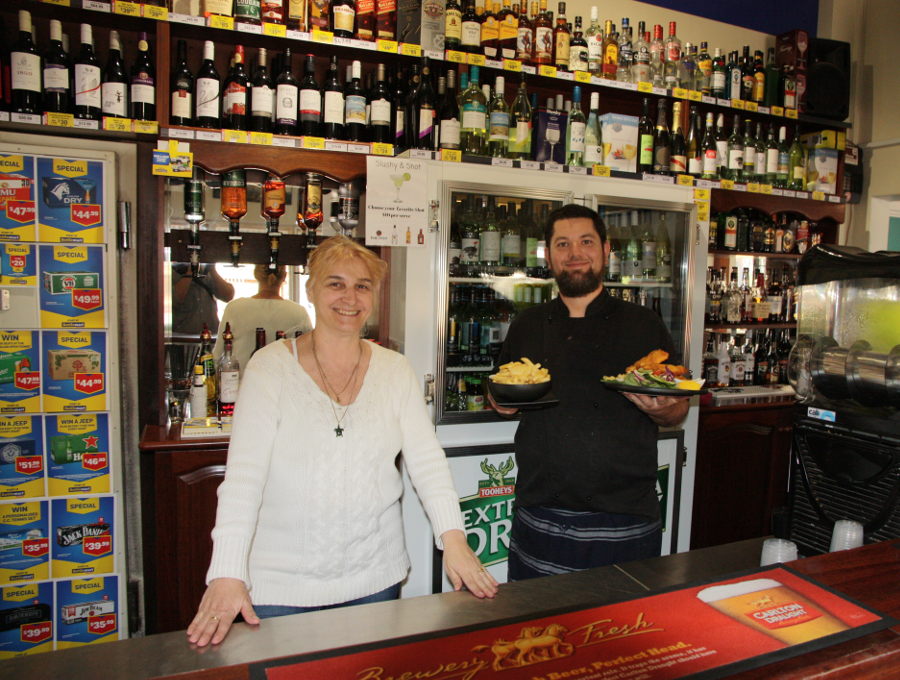 The Hotel and Motor Inn have recently reopened under new management. The Northcliffe Hotel is in the heart of town, on Wheatley Coast Road. The Cow and Calf Bistro offers a brand new menu and is open for lunch and dinner seven days a week. We have a public bar and beer garden, TV room and balcony. We sell take away food and alcohol and provide accommodation in comfortable hotel and motel rooms. We also host local TAB services, have a pool table and jukebox.
Lunch is available noon to 2pm and Dinner from 6-8pm.
Our adjacent Motor Inn offers comfortable and affordable accommodation with double, twin and single rooms.
Contact us on 08 9776 7089 or 0428 447 787. PO Box 373 Northcliffe WA 6262. email us at ncfhotel@bigpond.com.
Visit our Facebook page for updates: www.facebook.com/NorthcliffeHotel/

---
Northcliffe Workers Club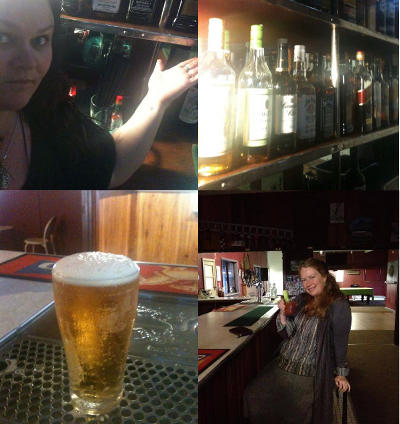 Open 7 days per week from 5pm. Located on Mill Road Number One, just outside of Northcliffe toward Windy Harbour, at the end of the road on the right hand side. The Club is a not-for-profit volunteer operated organisation. Food, Alcohol and Soft drinks are available.
Evening meals and snacks are provided onsite by Linda's Dinners.
Special events include darts and karaoke nights and Club ROMP dance events.
Members, their guests and visitors, are welcome. Contact Evan Thompson, PO Box 365 Northcliffe WA 6262. Phone: 08 97767 027.
---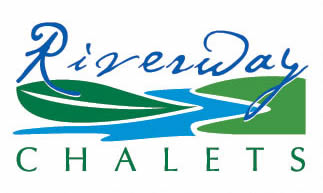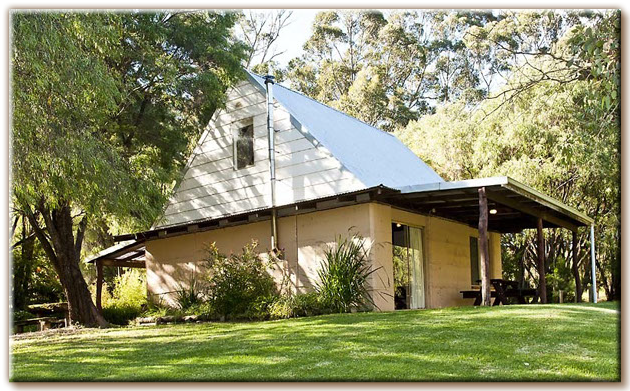 Our piece of paradise is located 7km from the heart of Northcliffe, on Riverway Road.
Five self-contained rammed earth chalets have accommodation for 2 to 6 people. You can arrange Group Bookings or just book a chalet for two. Each chalet is fully equipped inclusive of bed linen, towels, blankets, and doonas. Facilities include refrigerator, gas stove, microwave, wood heater, ceiling fans, radio, communal barbecue and guest laundry.
Riverway Chalets are managed by owner Leonie Gray and you'll always be welcomed at this quiet retreat.
Relax by the fire or on the verandah and enjoy the peace and tranquility of walk trails through forest rich with birdlife and wildflowers to the Gardner River, where you might like to cross over to the Bibbulmun Track.
Phone: 08 9776 7183. Fax: 08 9776 7337. Email: bookings@riverwaychalets.com.au or visit our website at www.riverwaychalets.com.au.
---
PipinnVale Cottage B&B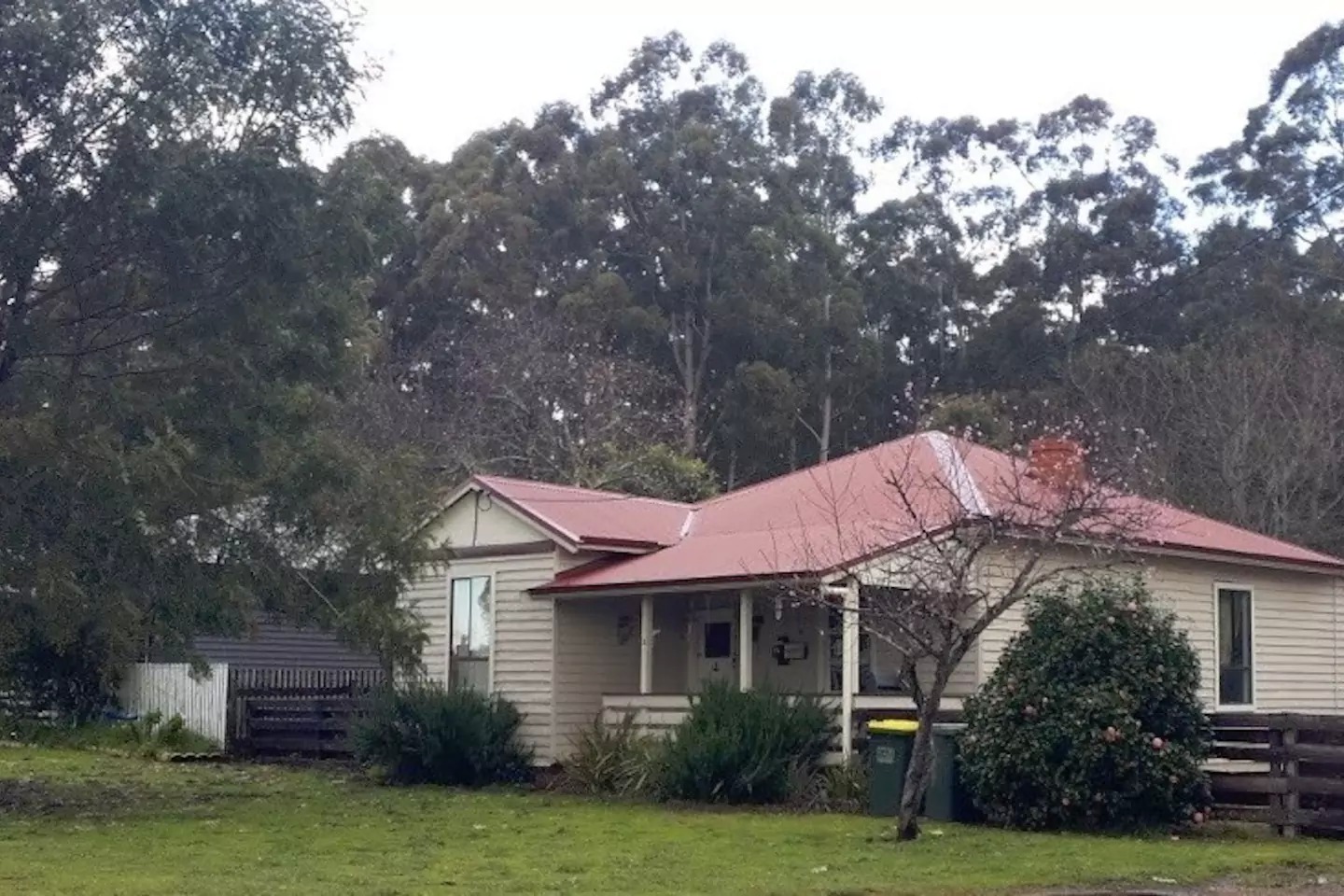 An old timber workers cottage at the Old Mill settlement just out of Northcliffe surounded by tall karri and jarrah trees, with an open fire and jarrah floors. We also have our new GLAM tent and outdoor shower. Enjoy optional home cooked dinners, breakfasts and platters after a day of experiencing the amazing natural surrounds of Northcliffe and the D'Entrecasteaux National Park coastal areas.
Visit our Facebook page at www.facebook.com/pipinnvale.bnb/ or check us out on airbnb. You can contact Pippa on 0439 520 759, or email pippa.prescott@gmail.com.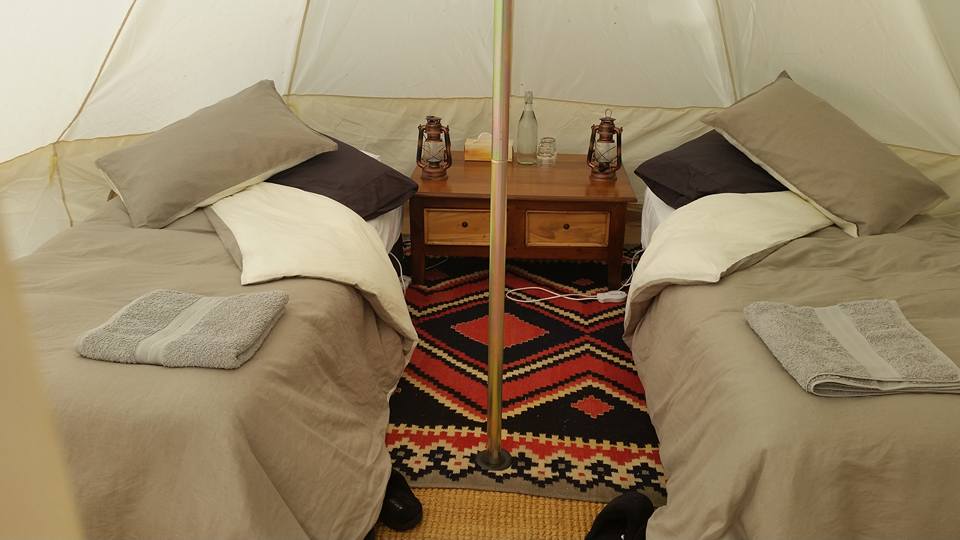 ---
Sheerwater - Windy Harbour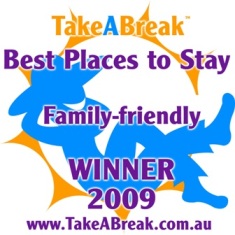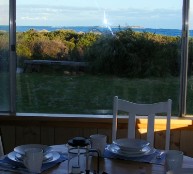 Have breakfast overlooking the sea! Sheerwater is one of only 219 houses nestled within the D'Entrecasteaux National Park. Sheerwater is the only cottage available as holiday accommodation with ocean views at Windy Harbour. An open plan living area overlooks the Southern Ocean and Sandy Island. The kitchen is well appointed, allowing for the fact there is no mains power, only a generator. Three bedrooms have accommodation for up to 6 people.
Visit our website at sheerwater.net.au to check our rates, accommodation availability and our photo gallery. You can contact Judith on 0428 767 160, or email us at info@sheerwater.net.au.

---
Sid's Campground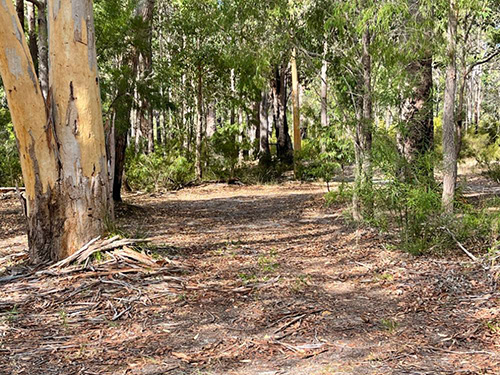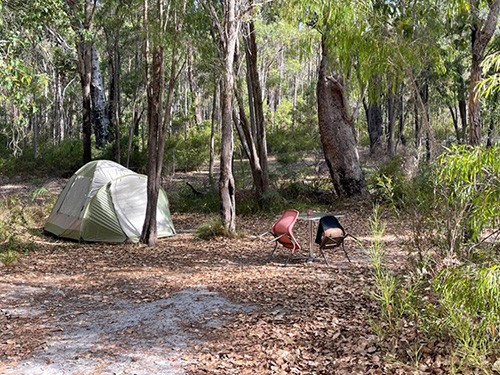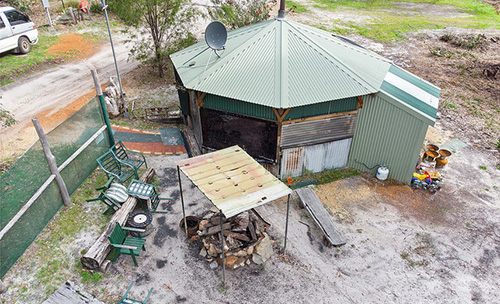 Come and enjoy peaceful, free-range and pet-friendly camping at Sid's Campground. Just 3.9km from town you can have a campfire during the unrestricted season (March to October). We have hot showers, toilets, a camp kitchen and bbq and some powered sites available. Our rates are amazingly low so we appreciate donations to help cover costs.
Download our brochure with our rates and a map, and give Sid a call now on 08 9776 7128 or 0427 767 127.
We also have a Facebook page: www.facebook.com/Sids-Campground-1669409706652799/.

---
Tiddely Pom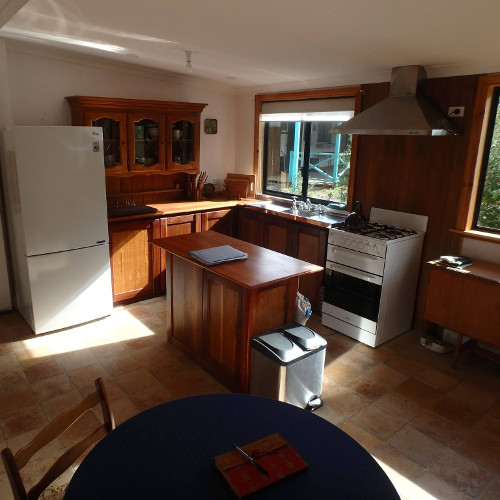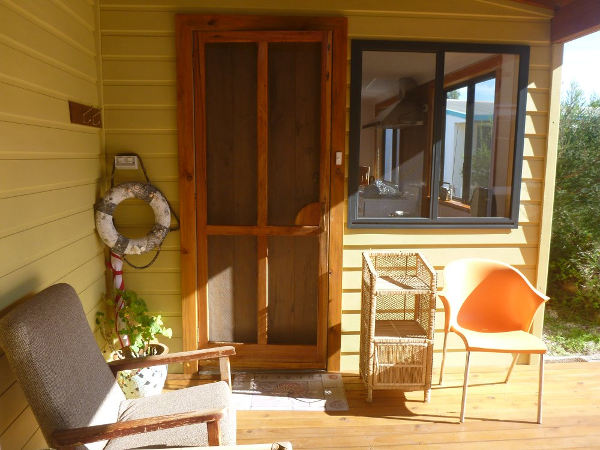 Tiddely Pom offers recently renovated accommodation where one can experience the peace and quiet of the unique seaside village of Windy Harbour. Relax on the sunny north-facing deck or sit and watch the birds feeding on the bottle brush from the shaded south-facing veranda. The beach is a short walk away. Experience living 'off grid' in this solar powered hideaway.
Visit our website windyharbour.com.au to check our rates and availability. You can also visit our Facebook Page.
Contact Damon and Ann on 0499 293 049 or 0400 848 505, or via email tiddelypom@windyharbour.com.au.

---
Warren River Cottages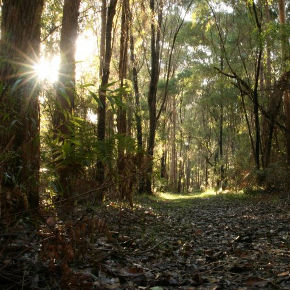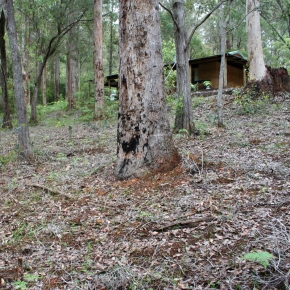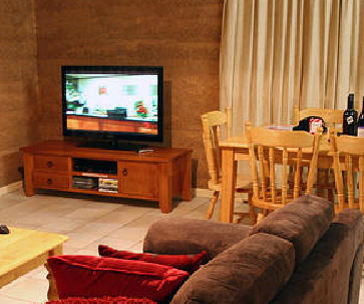 Cosy rammed earth cottages set amongst the karri forest, bordered by the Warren River and the Warren National Park.
Our cottages are fully self contained with all your linen supplied and a wood fire for cosy winter evenings. Enjoy our walk trails, swimming pool, children's playground and games room. The perfect place to explore the Southern Forests' National Parks and visit the many award winning wineries in the region.
Visit our website at www.warrenriverresort.com.au, phone us on 08 9776 1400 or email info@warrenrivercottages.com.au.
---
Windy Harbour Beach House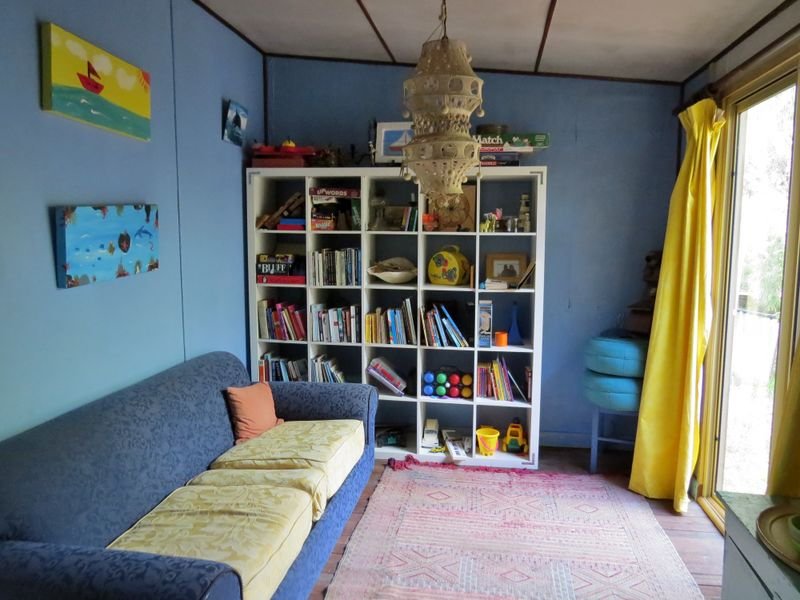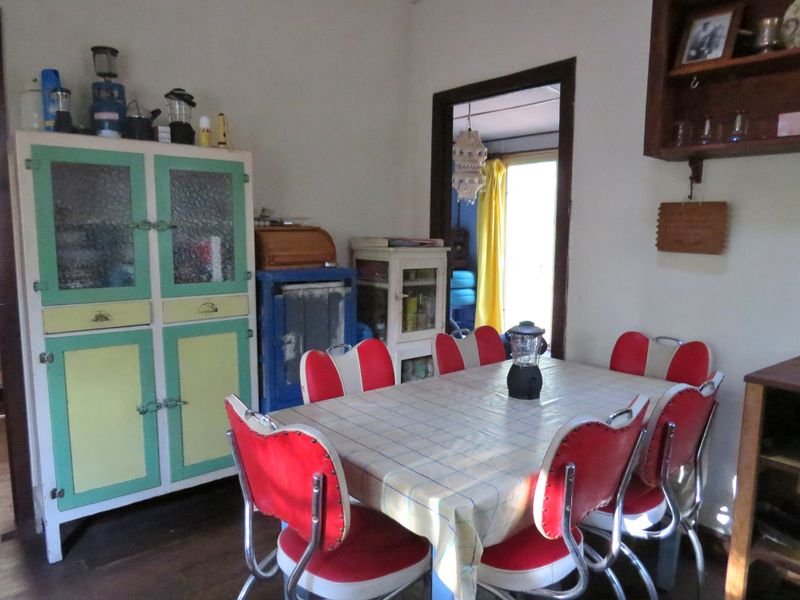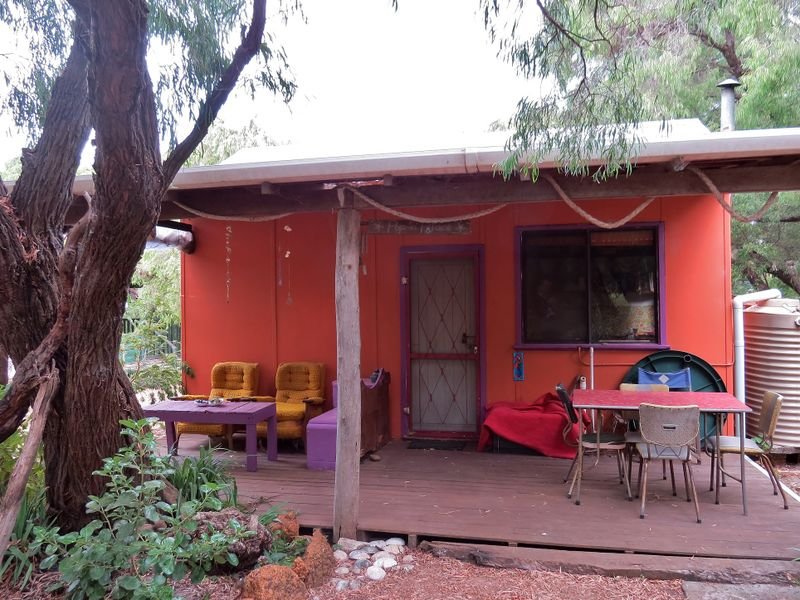 Have a break from it all and enjoy the swimming, fishing, beach combing and relaxed lifestyle of Windy Harbour. The simplicity of no electricity with the convenience of gas hot water, and a gas oven and fridge. Outside you'll find a shady verandah, gas bbq and fire pit, and a sunny rear deck and grass areas. We have a Metters Wood Stove to warm you up.
The cottage is recommended for up to 6 guests and features a main bedroom with double bed, and a rumpus room with a double bed, single trundle and a double bunk. Linen, bedding and towels are provided and the cottage comes equipped with crockery, cutlery, pots and pans, tea, coffee, sugar, books and board games.
email philandleece@hotmail.com, phone 0428451754, or contact Phil and Lisa-Marie, PO Box 401, Northcliffe WA 6262.
---
Windy Harbour Camping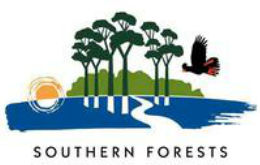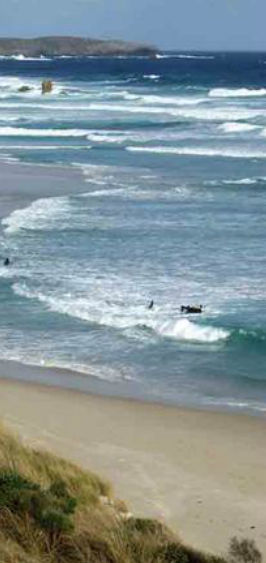 27 km from Northciffe, on the coast, surrounded by D'Entrecasteaux National Park, the Windy Harbour camp ground is a true gem. Windy Harbour has a boat ramp and, neighbouring that, a reasonably well protected beach which locals use for swimming. The campground is behind the dunes, somewhat protected from Windy Harbour's namesake afternoon winds, the campground features lush grass, hot showers, a camp kitchen, campfire areas and a convenience shop. There is no power and dogs are not allowed. Generator restrictions apply at night time and all generators must be quiet. (An onsite caretaker also has the authority to request generators and turned off).
The campground has a neighboring playground and is fully integrated into the beatiful and quirky coastal shack village section of Windy Harbour (known colloquially as Chinatown' by the locals).
The campground is managed by the Shire of Manjimup. Download the information sheet with rates, rules and a map, call the campground on 08 9776 8398, phone the Shire directly on 08 9771 7777 or visit the Shire website at www.manjimup.wa.gov.au.