Art and Artists
Many artists call Northcliffe home.
The Modernists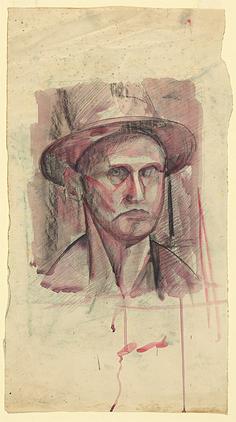 Northcliffe has been a minor mecca for artists since the mid 1970s when modernist artists Howard Taylor (AM) and Guy Grey-Smith (AM) moved to the region. Howard Taylor lived in Northcliffe from 1975 to 2001. Guy Grey Smith lived in Pemberton from 1974 to 1981. His son, Mark Grey-Smith is a successful sculptor and now lives in Pemberton.
not titled (Self portrait) by Guy Grey-Smith c 1947. Watercolour and charcoal over black pencil. Gift of Mark Grey Smith, the artist's son 1997 to the National Gallery of Australia - source Wikipedia
Although angular modernism seems an unlikely trend to emerge from the tangled natural inspirations of heath and bushland, the references in these artists' works to the environment around Northcliffe are obvious and, in the case of Howard Taylor, quite explicit.
Understory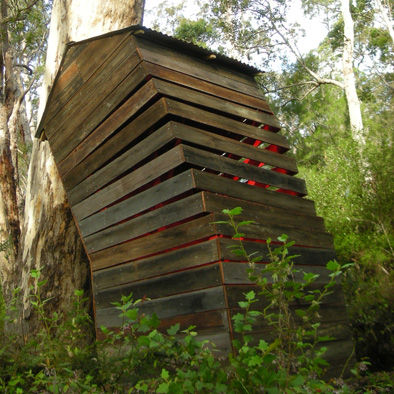 Cornelia Konrads artwork 'Australia House', commissioned for Understory by Southern Forest Arts in 2008 is one of a number of international artist commissions featured on the Understory Art and Nature Trail.
Northcliffe is home to the nationally unique art and nature trail, Understory. Understory is the first walk trail within Australia to permanently feature specially commissioned artworks from a range of different art forms. Sculpture, music, writing and photography were developed by nationally and internationally renowned artists.
The artists were inspired by the diverse beauty of the ancient forests that surround us, and the ingenuity and character of the individuals and community that live beneath the canopy.
Visit the Understory website at www.understory.com.au or the Understory Faceook page for more information.
The Painted Tree Gallery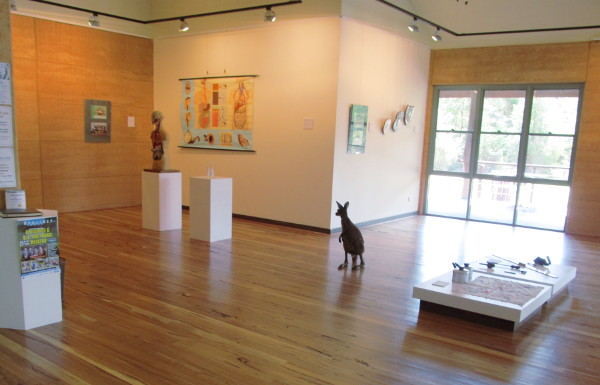 Managed by
Southern Forest Arts
, The Painted Tree Gallery is a purpose bult exhibition and community space located within the Northcliffe Information and Visitor Centre and open 7 days per week, 9am-4pm. The gallery hosts an annual program of exhibitions and is available for artists and community groups to hire at very reasonable rates. To find out about current exhibitions, hire rates, Visit the website at
southernforestarts.com.au/paintedTree.php
.
Local Arts Groups
The three major arts groups in the shire are Southern Forest Arts (based in Northcliffe), Pemberton Arts Group and the Warren Arts Council (based in Manjimup).
Southern Forest Arts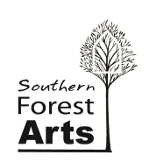 Southern Forest Arts was formed in 2005 to develop the Understory - Art and Nature Trail and to manage The Painted Tree Gallery. In recent years SFA has absorbed Northcliffe Arts Association and is now involved in a wider range of activities which include running art and textiles workshops. Southern Forest Arts has a dedicated team of 8 committee volunteers and many community supporters who assist with projects. The Understory trail (then called the 'Southern Forest Sculpture Walk' officially opened in 2006. Visit www.southernforestarts.com.au for more information.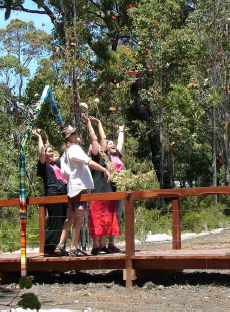 Right: Some of the original Southern Forest Arts Committee celebrating the opening of Understory in 2006 (then called 'The Southern Forest Sculpture Walk').


Below: The Extraordinarily Beautiful Mural in Fruitopia, Northcliffe's Community Garden, received some funding support from Southern Forest Arts (amongst many other funding sources). SFA's multi-talented project coordinator Fiona Sinclair, was the artist in charge of the project.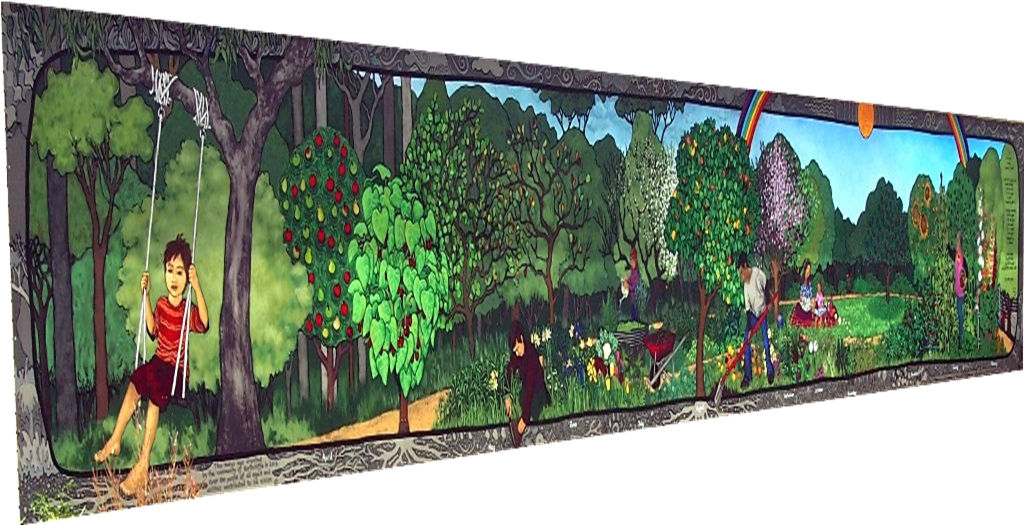 Pemberton Arts Group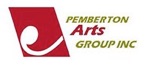 Formed in 2004 by a group of local Pemberton artists, Pemberton Arts Group are a not for profit incorporated organisation, with a working committee comprised of multi-skilled volunteers. PAG meet monthly to plan and facilitate exhibitions, workshops and activities throughout the year. They have made a big impact on the Pemberton streetscape through the commissioning of an Artscape in the form of spectacular screens featuring natural forms and lighting, now installed alongside Brockman Reserve on the Pemberton main street. PAG exhibitions have acheived excellent sales for participating artsts. PAG have a website at pembertonartsgroup.org.au and can be emailed at secretary@pembertonartsgroup.org.au.
Right: Pemberton Arts Group volunteers installing the Artscape screens.
Warren Arts Council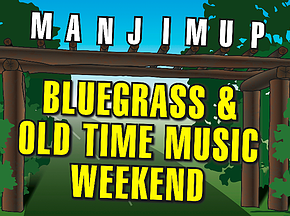 The Warren Arts Council has over 20 years of history providing and supporting the arts. The Council is based in Manjimup. As well as an annual bluegrass and old time music weekend, Warren Arts Council promote and organise regular music evenths throughout the year. Join their email list to be updated regularly by emailing mrsmnixon@gmail.com. You can also contact the Warren Arts Council at PO Box 689, Manjimup, WA 6258.
Local Art Classes
Artist Tony Windberg offers weekly art classes operating out of the Windmill Gallery workshop space. Tony combines an exceptional technique and a passion for experimentation with a natural aptitude for teaching and a love of art history. The current class focus is painting and drawing. Models are occasionally hired. Come and join our friendly and productive weekly group. Contact Tony at
windberg@westnet.com.au
.
As well as these regular classes Northcliffe and the wider region host arts workshops intermittently throughout the year. A favourite is the Nalda Searles textiles weekend workshops which are held annually at Watermark Kilns (information from textilesatsfa@gmail.com). Artist Tony Windberg also runs ocassional workshops. For information and notice of these and other workshops keep your eye on our website, local noticeboards and the Northcliffe Karri Pigeon. You are also welcome to email info@southernforestarts.com.au to request to be placed on an email mailing list for local arts activities.
John Austin - Photographer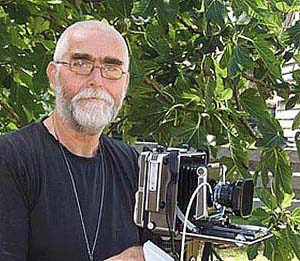 John Austin is a Western Australian photographer based in the south west forest working exclusively with fine silver-gelatine black and white prints, normally from large format cameras.
His subject areas include karri and jarrah forest, paperbark-swamps, granite monadnocks, forest protest actions, logging, portraits, artist portraits and an infra-red series of Nel Simpson an aerial performer working high in the forest canopy.
You can find a sample of John's work on his website: www.jbaphoto.com.au
PO Box 109, Northcliffe, Western Australia 6262. email mail2@jbaphoto.com.au or phone +61 8 9773 1288.
Warwick Backhouse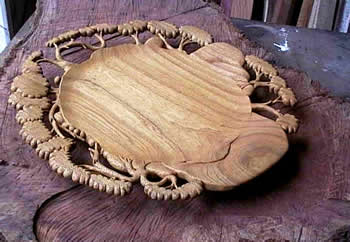 River Banksia Platter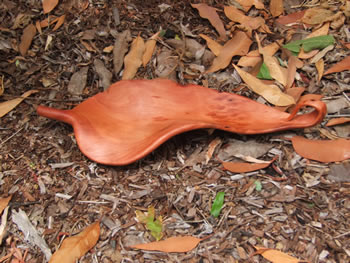 Carved Leaf
WarwickxBackhousexhasxlived all his life in the Southern Forests. He started working with wood at 11, learning to turn from his father.
He is inspired by nature, choosing to work with native timbers, where he can savour the grain, colour and texture.
Wherever he goes his eyes are open for interesting timber and his collection is salvaged from old buildings, farm clearing and even firewood heaps.
Every piece has a story to tell and his work is represented in private collections throughout the world. Warwick really enjoys carving, particularly leaves, trees and reptiles.
He gets many commissions for Trophies and wedding gifts and loves the challenge and opportunity to create something unique to celebrate and remember.
Contact Warwick via phone 08 9776 7224.
Peter Hill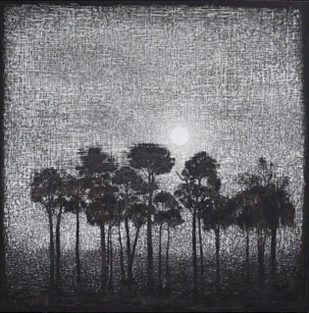 Above: Standing still while the world turns 2015.

Right: The Rivers 2008, acrylic on marine ply, 190 x 70cm. From The Red Tree Exhibition, Melbourne 2008.
Peterxisxaxvisualxartist living with his family in Northcliffe. He describes his growing tribe as 'a house full of artists'. Peter's work is included in significant collections such as the Art Gallery of WA , Artbank, The Federal Court of Australia and the Kerry Stokes collection.
The rich nature of the south west WA landscapes of his life are undoubtedley a common thread connecting the objects and works Peter makes. Peter originally focussed on the traditional form of oil painting however his range has grown, including large sculptural forms and site-specific installations as well as delicate and sometimes tiny objects. Peter continually reasseses the foundations for the work he does and reinvents the way he expresses his insights. The results are powerful.
Writing in 2008 about The Red Tree, his first Melbourne exhibition, Peter said:
"For many years I have observed and studied the details of trees and the natural environment within which they occur. In this exhibition I have peeled back the surface layers of these to think and feel about the underlying form of the tree and the way that this form is found in many other aspects of nature: the branches of the tree, a river delta, a network of arteries and veins or lightning in a night sky. These shared patterns are all pathways for the flow of energy."
Explore Peter's website at www.peterhillartist.com or email him at peterhillartist@bigpond.com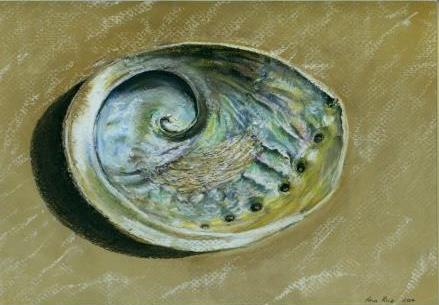 Brown Lip Abalone
Broke Inlet
Ann Rice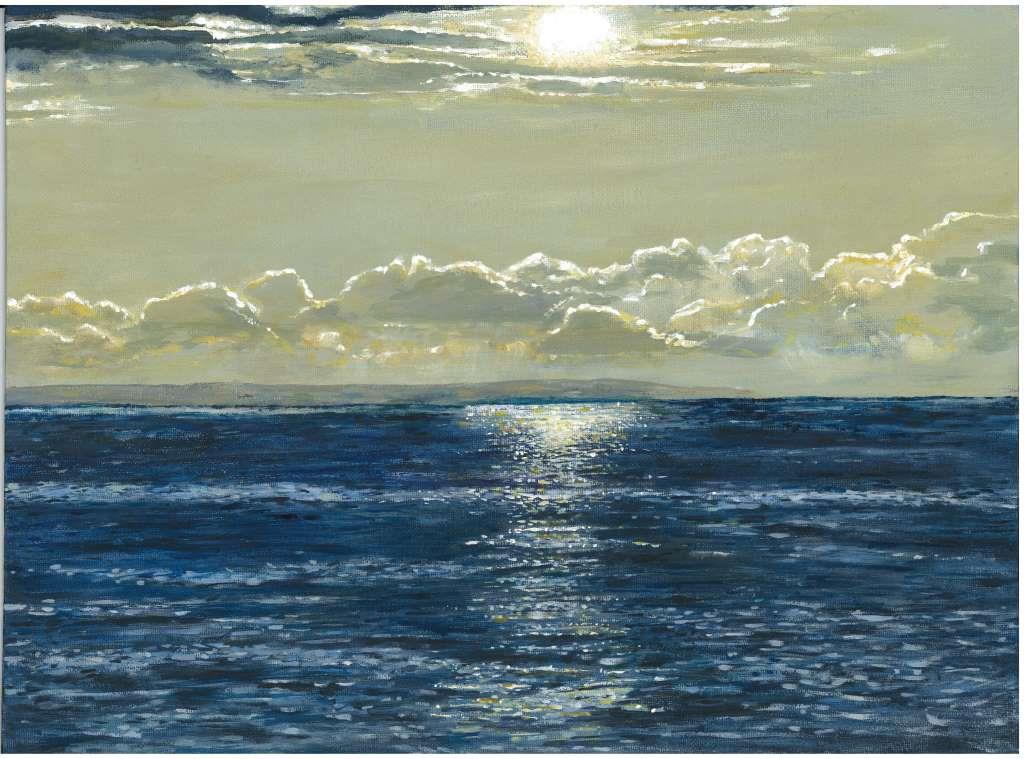 Stairway
Ann started painting in 2013 under the tutelage of South West artist Tony Windberg. Contact 08 9776 6392. Email ann.rice@skymesh.com.au
Fiona Sinclair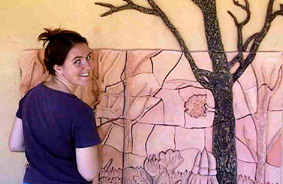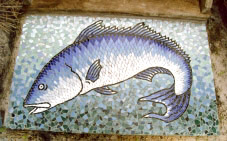 Fiona is active in many aspects of community life in Northcliffe. She has painted the power poles with local flora, added wonderful fishes to the Windy Harbour toilet block, produces hand built master pieces in clay and worked on a variety of other public art projects in WA including recent community murals in Manjimup and Northcliffe. Check out the Fruitopia mural, or better still visit it in person.
Fiona is the Coordinator of the fantastic Understory Art and Nature Trail. Contact her at info@southernforestarts.com.au.
Tony Windberg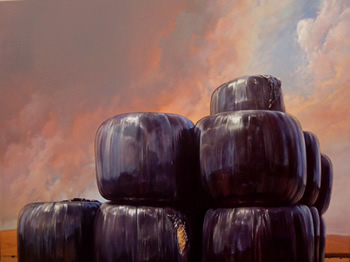 Ascension, oil on canvas, 92 x 122 cm
City of Bunbury Art Collection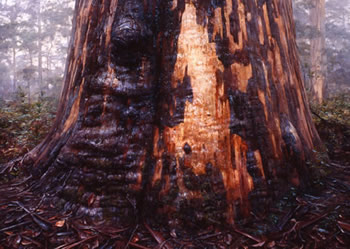 Karri, acrylic on canvas, 66 x 92 cm
Private Collection
WAxartistxTony Windberg chose Northcliffe to set up his studio in 2006. His paintings and drawings focus on our tenuous relationship with the Australian landscape. Tony has also returned to painting trees and runs workshops in many media, including natural materials from the bush. He also teaches regular art classes in Northcliffe and Pemberton and TAFE classes in Manjimup. Tony has won many art awards including the City of Perth Art Award in both 1999 and 2001. His work features in numerous public, corporate and private collections. Since completing his Bachelor of Arts degree from Curtin University in 1986, he has received several major commissions and been invited to participate in numerous group exhibitions.
In 2014 Tony was featured in the Film 'Tony Windberg - A Painter in the Woods' which provides an authentic window into the artistic alchemy of Tony's practice. The film premiered in Berlin and can be viewed on Tony's website.
Visit www.tonywindberg.com for information on Tony's workshops and regular art classes, art sales and a gallery of his artwork.
Email windberg@westnet.com.au.